Design your survey
Designing a great survey may sound like a tall order -- but it's not, when you combine Presto's easy-to-use Survey Builder with a little common sense.  
When we say a "great" survey, we don't mean the survey equivalent of the Mona Lisa. We mean a survey that follows the flow of a real shopper's experience, and that calls the Insta-Shopper's attention to points that you want them to observe at the appropriate times. 
As you design your survey, ask yourself the following:
What information do you want to extract from this shop as a whole?

What observations would the shopper make to obtain this information?

Where would the shopper make these observations while following the flow of a real shopper encounter?
You may find that it helps to organize your thoughts in a spreadsheet or table format.  For example:
| | | |
| --- | --- | --- |
| Information to extract | Shopper observations | Where/when? |
| Correct signage | President's Day sale sign | Front window of store |
| | 20% off this rack popup sign | All sale racks (winter apparel) |
| | | |
| Associate courtesy | Associate proactively approaches shopper | Within 2 minutes of entering store |
| | Associate smiles, makes eye contact and offers appropriate greeting or comment | Start of any interaction |
| | | |
| Associate product knowledge | Associate mentions specific product features | Volunteered by associate OR on prompted by shopper |
| | Associate can compare to competitors' products | Volunteered by associate OR on prompted by shopper |
| | Associate can comment on ease of use | Volunteered by associate OR on prompted by shopper |
Once you know what you need to find out, write the survey questions that will prompt the shopper to get the information you need. Don't worry about the order at first -- just get the questions you want, then rearrange them so that the survey has a natural flow. Rearranging question order in Presto is easy!
Provide clear instructions
When designing your program (and your survey), you want to make sure that your shoppers succeed.  Shoppers want to do the right thing, but sometimes shop instructions and questions are confusing. Here are some tips to avoid mixups and make sure that your Insta-Shops are done right the first time:
Use concise, clear language. Remember, the shopper is using a mobile device! Avoid wordy descriptions, and be clear about what you mean.

Explain any terms or product names that the shopper may be unfamiliar with. If appropriate, provide a link, but proceed with caution: clicking a link takes the shopper out of the survey form, so use a text description if possible.

Provide pictures if appropriate. This is helpful if you're asking the shopper to check for signage, report on the location's appearance, or find a product that they may not be familiar with. See our knowledge base article for instructions on adding pictures to survey questions or answer options. Don't add pictures just for the fun of it, though -- unless they're necessary, they'll just clutter up your survey.

Clarify photo upload questions so that the shopper knows exactly what to photograph. Make sure to clarify:

What EXACTLY do you want a picture of?
Where will the shopper find it?
How should the shopper photograph it? (for example, "Please take a picture of the stand-up display. Make the picture large enough to include the aisle number or nearby shelves.")
What should the shopper do if the item to be photographed is not available? Is there an alternative (for example, "Please take a picture of the FastBank sticker on the front door. If you do not find the FastBank sticker, please take a picture of the front door showing the absence of the sticker")?
Also, whenever including a photo upload question, make sure that the shopper will be able to take the photo discreetly, or will have a plausible reason for taking it.
Provide clear instructions for text questions. If you ask a shopper for a description or explanation, be sure to clarify:

What is being described (an interaction, the condition of a store, the appearance of a product, etc.)?
What are the important details of this description that must be included (the associate's greeting, whether the sale sign was in the store window, the condition of the product packaging, etc.)
Anticipate any problems the shopper may encounter
Insta-Shops have a short time limit, and there's no scheduler to tell the shoppers what to do if they run into problems. Because stuff happens, it's always wise to try and anticipate any problem situations, and tell shoppers how they should be handled. You can do this in the shop guidelines or in the survey, as appropriate.
Please consider how to handle the following situations, as well as what the shopper will be paid in each case:
Product is not available

Location is closed

Permanently closed

Temporarily closed when it should be open (due to an emergency, an unplanned/unadvertised closure, etc.)

Location is the wrong type of store (for example, a pharmacy shop at a location without a pharmacy)

Any other "can't complete" scenarios that may occur, and that that are not the fault of the shopper
Creating your survey: the nuts and bolts
To create a survey, go to Setup -> Companies and Surveys.  Locate the company where you want to create the survey (or click Add a new company if necessary) and click Add Survey.  You can copy one of your existing surveys, or use one of our templates as a starting point: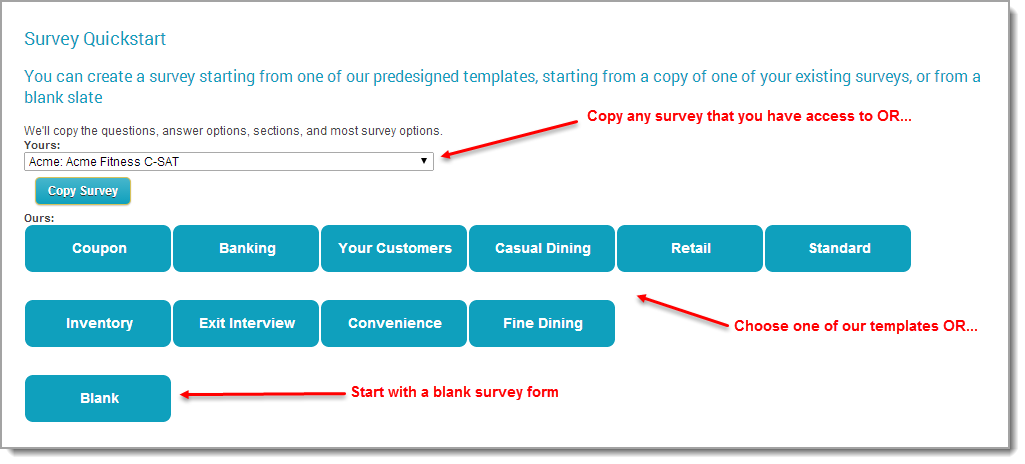 The Presto Survey Builder is easy to use.  The first time you use it, you'll see a brief tour that shows you the main features of the Survey Builder.  For more information, click these links:
Reviewing your survey
When you're done, don't forget to review your survey using the Preview link in the Survey Builder.  Make sure to check all the points above:
Is your survey clear and easy to follow?
Does all the Presto Logic work the way it should?
Are questions required or not required as appropriate?
Can the shopper successfully complete the shop with this survey?
You can share the link in the preview with others if you need them to review the survey and approve it:
Creating your survey: useful tips for PPPs
Scoring and sections: if you plan to import your results into SASSIE, don't bother setting up sections and scoring in Presto.  The Presto Importer in SASSIE  imports response data from Presto to create a new kiosk shop in SASSIE, and applies the scoring and sections of the SASSIE survey to the newly created shop.
Image size: most smartphones take large images, although they can be configured to take smaller ones.  These very large images are not needed for most Insta-Shop picture upload questions (for example, receipt photos, photos of a storefront), and so by default, Presto resizes pictures down to 800 pixels (largest dimension) prior to uploading.  In some cases, you may need a larger image (for example, if you want shoppers to take a picture of a large detailed sign where all text will be legible).  Our support department can change your picture upload questions to have a different maximum size (we recommend 2400 pixels for large detailed images) and/or to have a minimum size (i.e., the smallest size that you consider useful).  If you need to change the default size for a picture upload question, please contact us at support@prestomobilesurveys.com with the company, survey and question, and the image size that you want (minimum and maximum).
N/A scoring: if you are not importing your results into SASSIE, and you have questions with responses that should not penalize the evaluation score (i.e., if this response is selected, this question should not count against the shop score), this has to be set up by Presto Support prior to your project going live and shops being collected.  Please contact us at support@prestomobilesurveys.com with the company, survey, question text and the response that should be consider an N/A response.